Coachford Greenwalk and Farran Forest
On the way, but more or less by fortune, I found a few locations in Lee Valley. Amongst them is Farran Forest and Coachford Greenwalk.
When you possibly want to combine Mullinghassig waterfall with another nice walk or an activity, because you are anyway in the Coachford area, turn in Coachford into the R619. Right in front of the bridge turn left and after a few meters is the entrance to:
Coachford Green Way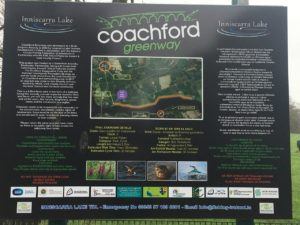 5,7 km to and back. No loop, but a beautiful walk along the Lee-banks. There is no gradient and suitable for everyone.
GPS: 51°53′48″ N  8°47′2″ W
For everyone that is dependent on public traffic, here is the timetable:
Best practice is to ask the bus driver where to get off the bus.
Farran Forest and Zipit Park
Afterwards or instead of, you can visit Farran Forest, which is more or less an activity park. Comparable with a huge adventure playground for children and grown-ups. For more information please have a look here:
https://www.zipit.ie/locations/farran-wood
It is not only the Zipit-Park. There is a rowing club and a small swan lake included and you can walk around a bit. And additionally, there is a playground for the small ones available and a picnic area. The area isn't that huge, but it might be worth to spend the parking fee which is 5€. For all, who plans to go there the next weeks, please note, that the Zipit-Park as such might not be serviced until end of February 2018. Everything else should be fine to access.
When coming from Coachford cross the bridge, turn left after the bridge and follow this street for a few km. You will see the entrance to Farran Woods on the left-hand side.
GPS: 51°53′27″ N  8°45′34″W
And if you want to join me for a walk or hike, please click here for guided walks in Co. Cork.