Curraghbinny Woods, Co. Cork
This walk seems to be a very popular walk. Families and dog walkers used the late morning on Christmas eve for a walk and for a good reason. It is not only a picturesque hike but also interesting and a bit challenging.


Half the way you can walk along the waterfront and once you will reach the barrier, which separates the villas built along the shore, from the forest area, you have to walk up the hill. From this point, it is to recommend to wear good walking shoes. Don't be afraid, it isn't a huge gradient. Simply reduce your pace a bit and you will be up on the hill not being short of breath. Reaching the top 10 min earlier or later doesn't make a huge difference in time. However, you might miss a few birds or squirrels.
Giant's Grave
Once reached the top of the hill, you stand in front of a grave. From the board next to it, I learned that it was excavated in 1932 and is called the "Giant's Grave".
From here, you have 2 options to go back to the car park. A longer and a shorter hike. The shorter way down is to the left and leads directly back to the car park if you keep right on the next T-crossing. The longer one to the right will lead you to the waterfront and you can go back to the car park that way.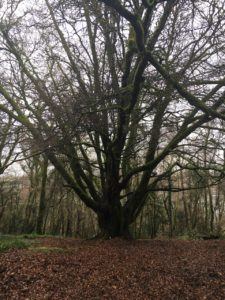 Directions
How to come to Curraghbinny?
Either from Dunkettle Roundabout or from Kinsale Roundabout:
Take the N40 and take the exit Douglas (9) to follow N28 towards Carrigaline. Take the first exit towards Ringaskiddy and stay on N28. From here it is well signposted. At Shanbally Cross turn right to use R613. After a while, you have to turn left into L2496. Follow along the street and keep right all way down and you end up in the parking area.
GPS: 51°48′47″ N 8°17′48″ W
Sorry, for all who needs the public transport, because there is none.