Tracton Woods, Co. Cork – the unfinished 7 km trail and an unexpected alternative
It's only a few days ago. Not too cold, not too rainy, but dark grey! Nothing that drags someone outdoors. And you know that feeling? You are bored? Basically, you should do something, but everything inside yourself refuses action?
I was in the same pitfall. My inner voice told me: "Go out! Remember the days you weren't able to!"  My body said: "You can do whatever you want but, without me"
I fought about an hour with my inner voice and my body and decided for the best option: Going out for a walk.
Hiking shoes —> check
something to drink and eat —> check
replacement jacket —> check
scarf, hat, gloves —> check
iPhone charged —> check
So let's start!
I had everything with me to not get surprised and I left home, although in meantime it looked darker than grey.
Tracton Woods
The day before I'd found by research work an area called "Tracton Woods" and I wanted to know what it is about. Surprisingly it was easy to find. Straight through Carrigaline, straight up the hill, straight along the winding road until to the end, then a right turn and after a few hundred meters I had reached the place of desire. Cool! A tiny parking lot, a barrier to keep unauthorized drivers away and what a nice stream along the trail! Perfect scenery. The stream's natural music gives a relief from the very beginning. Finally getting off of all the stress you've been coming across during the week.
After a few meters I came to a junction and because of the natural barrier on the left-hand side, I decided to walk to the right-hand side. So far, so good.
I knew from the very beginning: I would love this natural walk from the start to the end. This trail looks suitable for the whole family.



Unforseen difficulties
However, things turn out sometimes a bit differently than thought. I'd seen the bill at the junction, but, to be honest, I really didn't take great notice of it. I only saw the huge picture: Right-hand side opened, left-hand side blocked…
Walking hill upward, the following picture shocked me a bit when I came around the corner. Ophelia has transformed a huge area of forest into sawn tree trunks. So sad.
I went on walking and I had to pass a few really muddy places. Quite slippery, but I found my way through that area. With walking shoes, you won't have a problem. I hadn't either. A few curves later, however, I came across this situation:
I tried to find ways to go on, but none of them convinced me to be safe. The part on the right-hand side was too small for me to go through, the left-hand side was at the edge of the hillside and not really safe, too. I'm not the one who gives up fast. That hasn't ever been my attitude. However, when you are on your own, facing such a barrier, you don't want to risk anything. The decision I've made would have been probably a different one if I hadn't done the walk alone. But though I had to go for:
This keyword will be the subject of one of my next posts. It is another critical topic. You might never come into a dangerous situation, but it is good to know when it is time to stop and return. Awareness is your first-aid kit.
I definitely will come back to Tracton Woods. They are working hard to open the complete trail, but it might take a while. So let's postpone this walk to the spring.
Hmm, and what to do now? I decided to explore the surrounding area. I started my way towards the coast by going back the way I came from but, passing the T-crossing straight to Minane Bridge and Roberts Cove.
Robert's Cove
In Roberts Cove, it had already brightened up. From Wikipedia I learned, the village consists of a number of houses, Roberts Cove Holiday Park and two pubs, The Harbour Bar and Roberts Cove Inn, each next to the other. As a result of the death of the owner Denis Quinn, the Roberts Cove Inn ceased trading in August 2015. Must be one of the smallest villages in Ireland, but it has at least 2 pubs. The Roberts Cove Inn seems to be still on the market. (For some of my readers this might be a valuable information).
And in the small bay, you can watch loads of different seabirds: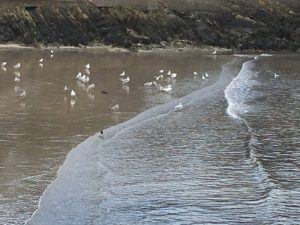 Rocky Bay
I went on by car through this tiny village and another few km further I found a sunny spot over Rocky Bay. 10 Min later a rain shower interrupted the nice scenery there. I was prepared and that's why it didn't bother me. Here I learned, this bay has excellent water quality and is safe to swim. What a beautiful beach. I might return next summer and enjoy a day on the beach. It looks quiet and calm and suitable as it might not be overcrowded.


But for now, I took the chance to go back on a different route and decided to go towards Crosshaven. To do so I had to go back to Roberts Cove and then either back to Minane Bridge or up the hill to the other side of the bay. I decided to go up the hill and passing by the holiday homes. When I reached the top of the hill, I found out that it was more than 1 cloud that made me set off for another location. And that's why I tried to return home the fastest way, rather than driving through the rain.
Directions
If you are keen to try Tracton Woods before spring, here you go:
Either from Dunkettle Roundabout or from Kinsale Roundabout:
Take the N40 and take the exit Douglas (9) to follow N28 towards Carrigaline.
At Shannon Roundabout, take the 2. exit to follow now R611 until the end, about 7 km.
At the T-Crossing turn right and after a few 100 m there is a tiny restaurant on the right-hand side. Either park in the parking bay on the left-hand side or turn right after the restaurant and use one of the few parking slots in front of the barrier.
GPS: 51°45'41.3″N 8°23'32.9″W
Unfortunately no bus service available