Marlogue, Co. Cork
3 reasons to share this wonderful location with you before the weekend!
forest recreation area
easy to walk and suitable for all ages
near the Cork's city gates
Marlogue forest
I was researching again for a nature walk and found on Coillte the perfect location. My 76-year-old neighbor was with me and she was happy to enjoy such a nice place. It's a gentle gradient and makes it easy to enjoy walking there.
You have the possibility to use it as a loop walk or walk the main forest road there and back. On the map, you can see many shortcuts for ambitious walkers.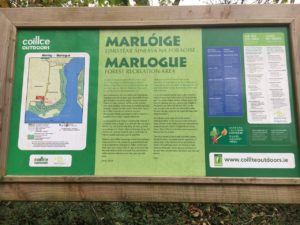 And you can see: It is green… Means quiet and relaxing. Trees and birds make a different noise which has a very calming effect. Enjoy the sound of nature!
The left picture shows the main forest road, the right-hand one shows the ruins of a summer house you are passing by if you start at the parking area. You see, history is included as well.


Directions
How to come to Marlogue:
Leave N25 at Carrigtwohill, Fota and take on the roundabout the 4th exit to cross the N25.
On the next roundabout, you take the first exit and follow the R624.
Pass by Fota Wildlife Park and after the bridge turn left towards Cobh.
After the almost 90° curve take the next street to the right towards Ballymore.
Please drive carefully because this is a really small road. Small? Tiny might be the better expression.
GPS: 51.8600400, -8.2200300
Unfortunately no bus service available.