Fota Wildlife Park, Fota Arboretum and Gardens, Co. Cork
To make it for all a bit easier to use the bank holiday weekend, I want to recommend today 2 possibilities to enjoy the days outside.
And, the best is, you have the choice of 2 possibilities, a "fee-based" version and a "free of cost" version.
Fota Wildlife Park
As you might know, Fota Wildlife Park is fantastic. Like every other zoological garden, it has its special attractions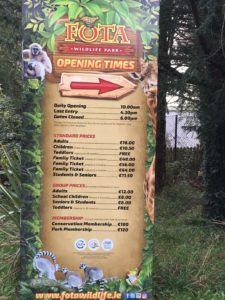 Fota Arboretum and Formal Gardens
This is the "free of cost" version and you can really enjoy this area as it is huge.  You pass by the entrance to Fota Wildlife Park and follow straight the tiny road. Covered by trees, flowers, ponds, and tranquility, the only disadvantage at the moment is, that Fota House is only open for special events between Oktober and March and though the Café is closed as well. But we all are used to take beverages with us and though we aren't lost.
This tiny road is signed, though you can't get lost: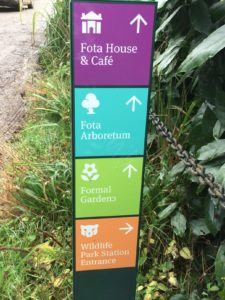 And here are a few pictures made in September:



Directions
There are 2 entrances to Fota: One at the railway station and one at the R 624.
If you take the train to Cobh, leave it at Fota. Here is the timetable.
If you come by car, leave the N25 at Carrigtwohill, Fota and take on the roundabout the 4th exit to cross the N25. It's well signposted.
On the next roundabout, you take the first exit and follow the R624 to Fota Wildlife Park.
The parking fee is 3 EUR and you have 2 options to park your car. The first car park is directly in front of the entrance to the Wildlife Park and for Fota Arboretum, you simply pass it by and park your car on the 2nd car park which is in front of Fota House, Formal Gardens, and Arboretum.